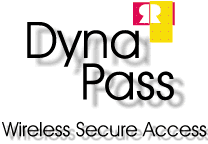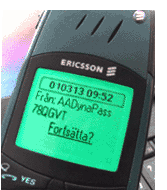 DynaPass provides a one-time password via SMS direct to you mobile phone. Giving you Secure Access to Windows NT/2000 domains with Active Directory and Novell networking with eDirectory.
DynaPass simplifies and improves your security when handling passwords and identifying users without introducing new equipment and complicated solutions. The mobile phone is used as a client for DynaPass. Strong Authentication of authorized users is guaranteed in two levels, SIM card and PIN code combined with an individual prefix, known only by the authorized user.
DynaPass opens up the unique possibility of actually enabling and disabling user accounts. This is possible since DynaPass is a central solution where dynamic password are created centrally and distributed to the user. Enabling and disabling of user accounts is done automatically according to settings in DynaPass defined by the company. User accounts are disabled as default and enabled for a short period giving users the possibility to logon. Unauthorized people can't use a stolen password or use brute force to find a password.
The only way to get access is that the authorized user requests a password and by doing so enables the specific user account.
Deployment of DynaPass is very easy and straightforward without requiring a lot of installation, support and maintenance. There are no clients, drivers or hardware solutions, which have to be installed and maintained in workstations. This will minimize the support/maintenance of the system and keep you in control of the security.
Due to the nature of DynaPass where users don't have to remember passwords, it will decrease the cost for lost or forgotten passwords, which is very high today. With DynaPass they can't forget it or lose it. They just order a new one!
You can deploy DynaPass for authentication of remote users or authentication off all users. Read more in Implementation Guidelines (PDF) DynaPass is a scalable solution, which can be deployed, in whole organisations or just in a part of them. The system is an add-on to existing infrastructure and systems, and introduces very few new components to support. The DynaPass User Manager handles only the DynaPass related settings. Security solutions based on remote access technologies such as VPN, Access Routers, secure WEB, Citrix etc can be seamlessly secured by DynaPass.
How does DynaPass work?
DynaPass includes a framework for setting up rules and routines on how users, individuals or groups, can request or receive dynamic passwords. Parameters for disabling and enabling of user accounts etc can be set through the administration tool.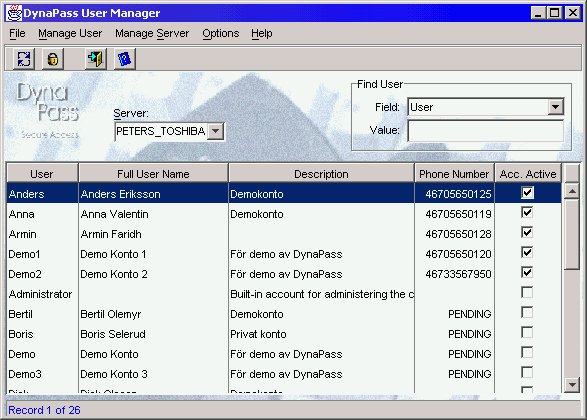 Examples on how DynaPass works.
Automatic distribution of dynamic passwords
DynaPass enables the user account and distributes a randomly created password e.g. dynamic password at a certain time. (Time settings are configurable)

A dynamic password is sent as a SMS to the users mobile phone.

The user can now use the dynamic password together with the optional Prefix to log on to his user account.
On-request of a dynamic password.
The users send a SMS from his mobile phone to DynaPass.

DynaPass will reply with a SMS message including a dynamic password to the users mobile phone. (DynaPass verifies that the originating sender e.g. mobile phone number belongs to an authorized mobile phone and determines the user to which it is linked. If the message originates from a non-authorized mobile phone then it is just logged and discarded. If it is from an authorized mobile phone, a random password is created and the user account is enabled)

The user can now use the dynamic password together with the optional Prefix to log on to his user account. (Log on can only occur within the stipulated time which can be configured on a users-by-user basis )


User Manager
DynaPass User Manager is the tool used by administrators for connecting users and user accounts to specific mobile phone numbers. The User Manager allows you to change, add or removes a mobile phone number from a user. The DynaPass database consists of rules and objects on different DynaPass users such as conditions for logging on, Prefix of passwords, time limits etc.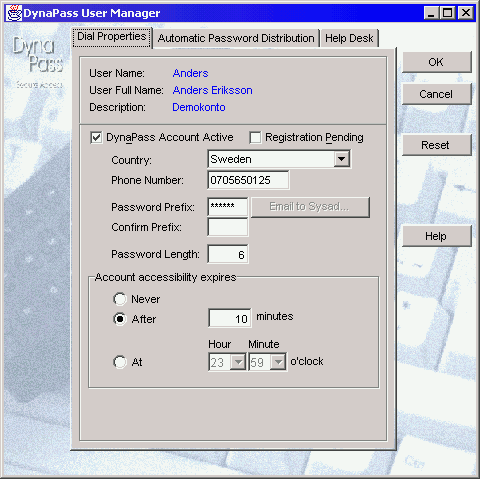 Functions and features in DynaPass:
Creation and distribution of dynamic passwords.
On-request or automatic distribution of dynamic passwords to mobile phones.
Automatic enabling and disabling of user accounts and for how long the user account will be open for log on.
Secret individual part of password. (Never distributed over GSM network)
Automatic registration of Mobile phone.
Length of password.
Automatic distribution of dynamic passwords can be set to:

Daily to a specific time.
Days in the week.
Once per day or more.
Start and end date.

Templates for defined rules in DynaPass.
Event logs.
Supports redundancy and load balancing.
Send and receive SMS through a GSM phone connected to DynaPass.
Send and receive SMS through a SMS centre in an Operator's network via IP.
System requirements:
DynaPass server.

Hardware
According to Microsoft NT4 and Windows 2000 specification
Pentium III 300 MHz, 256Mb RAM. One serial port available for GSM module.
Software
Microsoft NT4 Service Pack 4 or later.
Microsoft Windows 2000.
Microsoft IAS, optional (included in Microsoft Windows 2000 Server)
ODBC driver for selected database.
Microsoft SQL Server depending on selection of database.
Supported Directories
Microsoft Windows NT4 and Windows 2000 (Active Directory)
Novell NDS/eDirectory with LDAP support (from version 7)
Radius Server (Microsoft Windows 2000 Server incl IAS or Novell NDS/eDirectory with Radius support)
Mobile phone on DynaPass server and SMS over IP.
SMS send and receive capabilities.
Asynchronous serial interface compliant with:

ETSI GSM 07.05
ETSI TS 100 916 V7.5.0 (GSM 07.07)

Serial cable to connect to DynaPass Server.
Note!Battery charger must be active all time.
(System verifications made using Ericsson T28, Siemens M20T and Siemens TC-35T.) See latest information.
Connections directly over Internet to SMS Center at Mobile Operator

DynaPass User Manager
Pentium processor
Microsoft NT4 Service Pack 4 or later.
Microsoft Windows 2000.
JAVA Virtual Machine version 1.3 or later.
SVGA Resolution
ODBC driver for selected database.
DynaPass User.
Any mobile phone capable of at least receiving SMS messages.
---
| | |
| --- | --- |
| | Download the latest DynaPass release for evaluation from our FTP server. |
| | DynaPass FAQ (Frequently Asked Questions). |
| | See also White Paper for DynaPass |