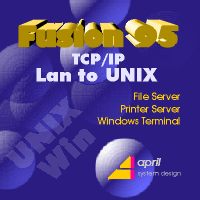 UNIX file and printer server for Windows PC networks
Fusion95 provides PC-to-UNIX connectivity via TCP/IP and RFC NetBIOS with a UNIX based file and printer server together with a terminal emulator for PC clients.
Fusion95 is developed by april system design and marketed in over 39 countries.
The Fusion Family
The Fusion family consists of Fusion95 operating over a TCP/IP transport and POWERfusion operating over a NetBIOS transport. Over 70,000 users worldwide use Fusion to provide PC-to-UNIX connectivity. POWERfusion has been awarded "Editor's Choice" by the American PC Magazine and "Best-in-Test" by the Swedish PC World. Fusion95 is an enhanced version of the POWERfusion server with better support for the newer Windows workstations.
UNIX as a PC Server
Use your UNIX machine as a PC file server. Fusion95 implements CIFS/SMB file and printer services including file and record locking on the UNIX system allowing thousands of DOS, Windows, and OS/2 applications to reside on a UNIX file system. These disks and printers appear to the workstation as normal network resources.
UNIX applications can print to PC printers and PC users can print to all UNIX printers. The UNIX lp spooler system can be used as if it were a local PC resource (e.g. LPT2:). Fusion95 allows all printers to be accessed by all users.
Fusion95 includes high performance Windows terminal emulation support for ANSI, VT220, VT320 and Wyse. The Windows emulator, called AniTa, is also available separately.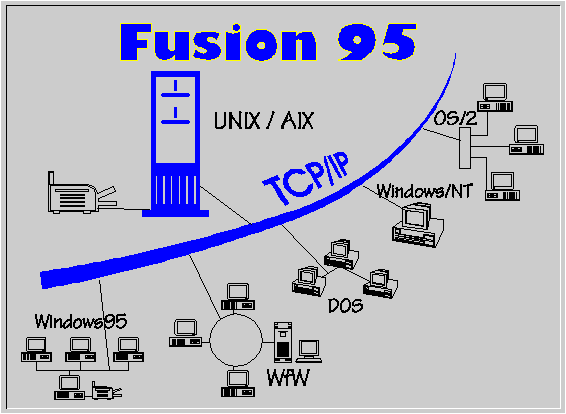 Quick and easy installation
A quick and easy installation connects UNIX to your LAN in less than 10 minutes.
No changes to your existing network. If you already have an RFC-TCP/IP network, for example as provided with Windows95, then a UNIX machine running Fusion95 can be added to your network without you needing to change any server or workstation. Just plug in Fusion95, and all existing users can immediately access UNIX applications and resources.
Simple configuration from Windows or UNIX
Fusion95 provides easy to use configuration utilities which can either run in Windows or in UNIX. These allow the administrator to configure Fusion95 from anywhere in the LAN or even accross a Wide Area network.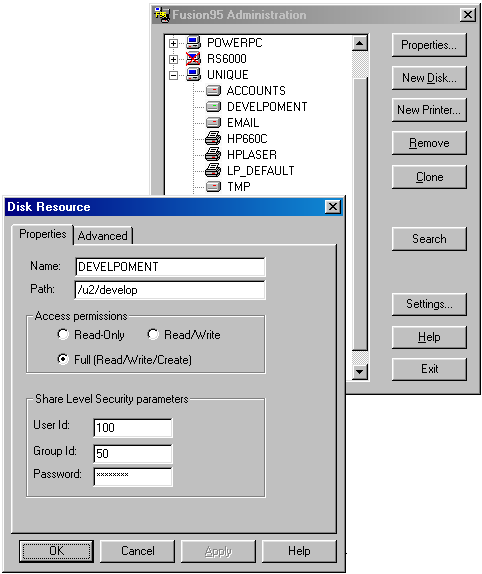 The Windows based administration program shows graphically all the Fusion95 servers in the network. The administrator can view, add, change or delete disk and printer resources as well as users.
It is possible to restrict administration from Windows to certain users, or to require special password authentication. It is even possible to disable administration from Windows for specific Fusion95 machines, in which case the server appears crossed out with a red X, and it is then only possible to view which resources are shared.
Security options to suit all needs
Fusion95 provides three different security modes; Share-Level, User-Level and Unix-Level. With Share-Level security the access to UNIX resources protected by passwords. With User-Level and Unix-Level security the access to UNIX resources protected by user name/account and password authentication.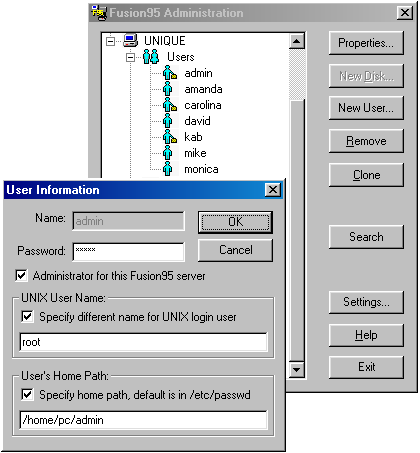 The Windows based administration program shows graphically all the Users configured on a Fusion95 server running User-Level security. These PC users can be optionally mapped to different UNIX username. Their password and home directories can also be changed from the UNIX default. Specific users can be given administration rights to the Fusion95 server, and these are shown grapgically carrying a breifcase.
Trigger-technology
Revolutionary new trigger-technology allows UNIX applications to monitor, filter and change server actions when a user accesses disks and files. Specific actions can be configured to trigger when specific events occur.
For example:
An application unique authorization check can be triggered when a PC user maps a specific Fusion95 shared disk.
The contents of a UNIX file can be updated immediately by a UNIX application when a PC user attempts to open it via a Fusion95 shared disk.
Provides NET LOGON capability
Fusion95 can optionally be configured to give support for NET LOGON from Windows95, Windows98, WfW and LAN Manager workstations.
When NET LOGON is used, information containing the user's network resources is retrieved from Fusion95 every time the PC logs on. This gives easier administration and gives the user the same network environment regardless of which network PC is being used. There is even support for execution of a user's own batch file at logon time.
Built on standards
Fusion95 is built on standards. It rests upon the standard TCP/IP transport. The Internet RFC 1001/1002 specification provides the standard for NetBIOS over TCP/IP including name resolution. The file system support is provided by the SMB (Server Message Block) protocol, an X/OPEN as well as an industry standard, being used in all Microsoft and IBM LAN products. The new industry standard CIFS (Common Internet File System) is also supported by Fusion95.
Supports enhanced SMB and CIFS protocols
The enhanced SMB (LANMAN 1.0 & MICROSOFT NETWORKS 3.0) and CIFS (NT LM 012) protocols are supported to provide additional features especially in conjunction with Microsoft's Windows95, Windows NT 4.0, Windows98 and Windows 2000/XP products. This includes:
Support for long filenames.
Support of user authenticaton via User-Level and Unix-Level security in addition to password authentication via Share-Level security.
Supports dynamic use of shared resources (e.g. \\SERVER\DISK\DIRECTORY\FILE.DOC).
"Big buffer" support uses 64KB blocks to increase performance.
Improved browsing, especially in networks with NT and Browse Servers.
Shared disk resources can now be configured as Read-Only.
Wide range of supported PC Clients
Plug-and-play with the following PC Network clients running RFC-TCP/IP Network:
Windows 95
Windows 98
Windows for Workgroups
Windows NT
Windows 2000
Windows XP
Lan Server (DOS and OS/2)
Lan Manager (DOS and OS/2)
OS/2 Warp Connect
and other TCP/IP and RFC NetBIOS networks.
Supported UNIX Platforms
SCO UNIX (Open Server 5 and 3.2.4)
RS/6000 and PowerPC AIX Version 3.2.
RS/6000 and PowerPC AIX Version 4. Includes IBM, Bull & Motorola.
Generic, Intel-based, System V Release 4. Includes SCO Unixware 2 & 7, Solaris, DG/UX & ICL.
Compaq (DEC) ALPHA UNIX
HP9000, HP-UX Version 11.
HP9000, HP-UX Version 10.
HP9000, HP-UX Version 9.
Motorola 88K RISC, System V Release 4.
Motorola 88K RISC, System V Release 3.2.
SUN SPARC Solaris.
Data General AViiON, RISC 88K, DG/UX 5.4.
Linux (Intel). Includes RedHat, SuSE, Caldera...
HP (Tandem) NonStop Himalaya Server
---
| | |
| --- | --- |
| | Download the latest versions for evaluation or upgrading. |
| | Fusion95 FAQ (Frequently Asked Questions). |
| | See also White Paper for Fusion95 |