What's New In Fusion95 version 6
- Fusion95 now has full support for Windows XP
- Enhanced performance when browsing with Windows Explorer
- Supports AIX 5, SCO OpenServer 5.0.6/5.0.7 and HP NonStop Integrity Server
Passthrough Authentication
Passthrough Authentication is a mechanism used by a Common Internet File System (CIFS) server to validate user credentials (user/password) with a Domain Controller and thus grant the user access to a resource on the server, following a successful validation of the user credentials by the Domain Controller.

What's New In Fusion95 version 6 for HP NonStop Server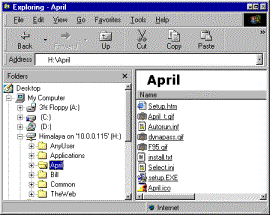 Enhanced Guardian File Support!
Version 6, available now, have full support for manipulating Edit (101) and C Data (180) files, in addition to existing support for unstructured files in the Guardian file system and all files in the OSS environment. This makes the Guardian environment as easy as the OSS environment with Fusion95, a great enhancement for developers and other users.

With Fusion95 also comes AniTa, a Windows Terminal Emulator with automatic revamping features.
Quick and easy installation
A quick and easy installation connects HP NonStop servers to your LAN in less than 10 minutes. No changes to your existing network. If you already have an RFC-TCP/IP network, for example as provided with Windows workstations, then a HP NonStop server machine running Fusion95 can be added to your network without you needing to change any server or workstation. Just plug in Fusion95, and all existing users can immediately access HP applications and resources.
Simple configuration from Windows or HP Server
Fusion95 provides easy to use configuration utilities that can either run in Windows or in the HP system. This allows the administrator to configure Fusion95 from anywhere in the LAN or even across a WAN. The Windows based administration program shows graphically all the Fusion95 servers in the network. The administrator can view, add, change or delete disk and printer resources as well as users. It is possible to restrict administration from Windows to certain users, or to require special password authentication. It is also possible to restrict administration read and update rights for specific Fusion95 machines.
Supports enhanced SMB and CIFS protocols
The enhanced SMB and CIFS protocols are supported to provide additional features especially in conjunction with Microsoft's Windows95/98/ME and Windows NT/2000/XP. This includes: · Support for long filenames. · Support of user authentication via passthrough to a Windows Domain Controller or locally via User-Level or Share-Level security. · Supports dynamic use of shared resources (e.g. \\SERVER\DISK\DIRECTORY\FILE.EXT). · "Big buffer" support uses 64KB blocks for best performance. · Shared disk resources can be configured as read-only.
Trigger-technology
Revolutionary new trigger-technology allows HP applications to monitor, filter and change server actions when a user accesses disks and files. Specific actions can be configured to trigger when specific events occur. For example:
An application unique authorization check can be triggered when a PC user maps a specific Fusion95 shared disk.
The contents of a HP file can be updated immediately by a HP application when a PC user attempts to open it via a Fusion95 shared disk.
Features and Benefits
Use programs such as Windows Explorer to browse the HP NonStop file system.
Read and write access to HP NonStop files from Windows applications without separate upload or download of the files.
Read and write access to Guardian Edit (101), C Data (180) and Unstructured files.
Read and write access to all OSS files.
Uses native Guardian NSK security for all file accesses (the system administrator maps Windows Users to Guardian User IDs using the system administration program.)
Easy installation. No need to install any additional client software on individual workstations.
Printers attached to the HP NonStop system can be used by Windows applications.
Printers attached to Windows systems can be used by HP NonStop OSS application. This applies even if the printer is directly attached to the PC and does not have it's own TCP/IP address.
Software/OS pre-requisites
The HP server must have OSS, TCP/IP, and a G06 or later NonStop Kernel Plug-and-play with the following PC Network clients running RFC-TCP/IP Network:
Windows for Workgroups
Windows 95, 98, ME
Windows NT, 2000, XP
OS/2