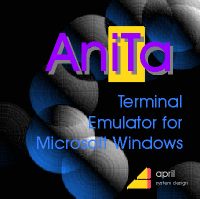 Terminal Emulator for Windows

AniTa 10 Screens and news

AniTa 9 Screens and news

AniTa 8 Screens and news

AniTa 7 Sample screens

Click here to see what's new in AniTa 7

Click here to see what's new in AniTa 6

Click here to see what's new in AniTa 5.2

Click here to see what's new in AniTa 5.1

Click here to see what's new in AniTa 5.0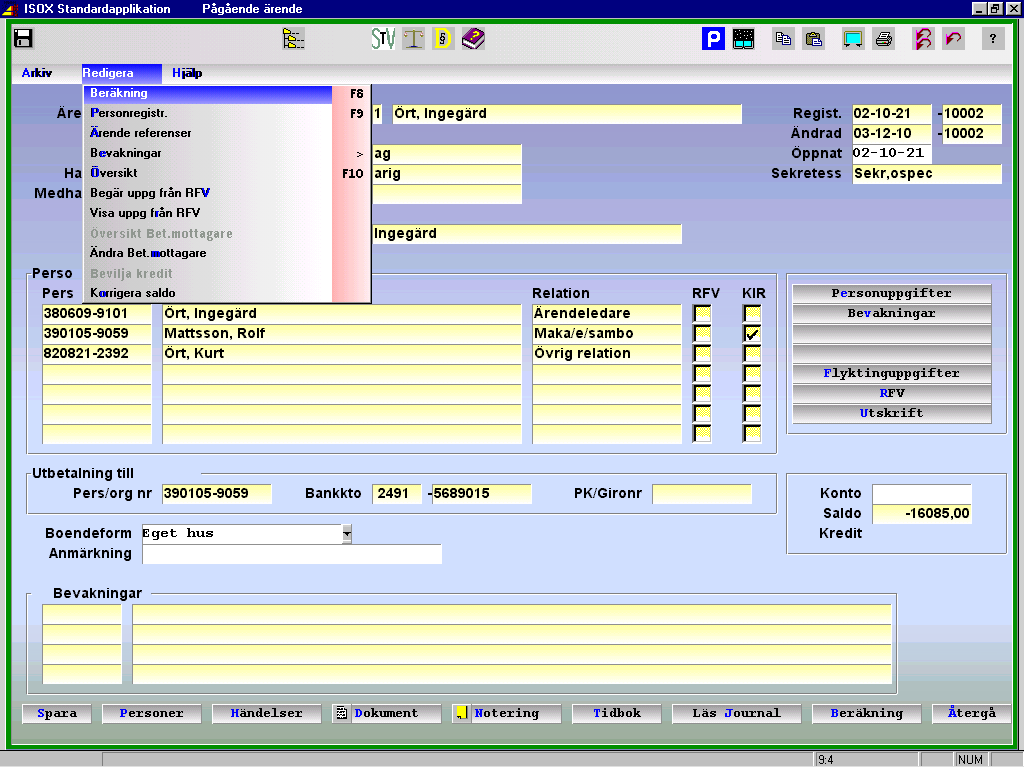 Click here to see what's new in AniTa 7
AniTa Terminal Emulation - now 700.000 installed in 60 countries.
Terminal Emulation for modern applications
Use AniTa Telnet Terminal Emilator to enhance your host application While still running one on the traditional terminal emulations (like VT100, VT220, VT320, VT420, VT510, VT520, VT525, ANSI, Wyse50, Wyse60, Linux Console, SCO Console, System V Console, Adds Viewpoint, Hewlett Packard HP700 and IBM TN3270 / TN3270E) you can make use of the rich features of a modern PC workstation. Screen enhancement are applied automatically and can also be configured.
AniTa Terminal Emulation is the terminal emulator that gives new life to your text based UNIX applications. It was evaluated as the "best Windows terminal emulator for UNIX applications" according to a leading UNIX supplier.
AniTa Telnet Terminal Emulator makes your text based application look like a Windows application. It gives you 3-D box attributes, color support and adds a graphical touch to your character based applications. AniTa Telnet Terminal Emulator also adds multimedia support to your text applications and can interface with other Windows applications providing seamless integration. All this helps extend the life of your UNIX solutions.
All Windows platforms
AniTa 6 Telnet Terminal Emulator is a 32-bit program which can run on Windows NT, Windows 95, Windows 98, Windows ME, Windows 2000 or Windows XP workstations. A 16-bit AniTa Terminal Emulator (version 3) is also available for Windows 3.1 and Windows for Workgroups users and contains most of the features of the 32-bit version.
Over 700,000 copies installed in more than 60 countries worldwide.
Terminal Emulation
AniTa Telnet Terminal Emulator supports a wide range of terminal emulations including VT100, VT220, VT320, VT420, VT510, VT520, VT525, ANSI, Wyse50, Wyse60, Linux Console, SCO Console, System V Console, Adds Viewpoint, Hewlett Packard HP700 and IBM TN3270 / TN3270E emulations. The number of columns and rows supported is configurable and switchable, such that AniTa Telnet Terminal Emulator will switch between 80 and 132 column output when it receives the command from the host.
The easy to configure, 3-D box and color options, allow you to assign such attributes even when running an existing application written for text based monochrome screens. Alternatively the color can be controlled from the host with ANSI, ASCII or DEC VT525 color commands.
Transports
AniTa Telnet Terminal Emulator runs over TCP/IP, NetBIOS and Asynchronous transports.
The TCP/IP transport uses Windows Sockets (WSOCK32 or WINSOCK) and supports Telnet, Rlogin and OpenSSH. This can be used either on a LAN or from a remote PC in which case auto-dial functionality is provided.
The Asynchronous connection can be used at speeds of up to 256K bps over a Modem or direct connection. Connection via modem can be automatically dialed and the session established.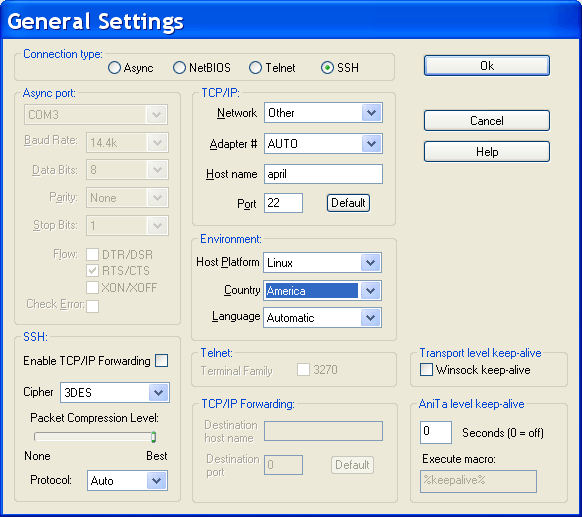 Keyboard Mapping
AniTa Telnet Terminal Emulator provides preset keyboard mappings for most common terminal and host combinations (VT52, VT100, VT220, VT320, , VT510, VT520, VT525, ANSI, Wyse50, Wyse60, Linux Console, SCO Console, System V Console, Adds Viewpoint, Hewlett Packard HP700 and IBM TN3270 / TN3270E ). The easy to use keyboard configuration, allows you to reconfigure any key on the keyboard. Keys can be configured to send data to the host, but also to perform local functions such as starting the Windows email client and creating a letter to an email address taken from the AniTa Terminal Emulator screen.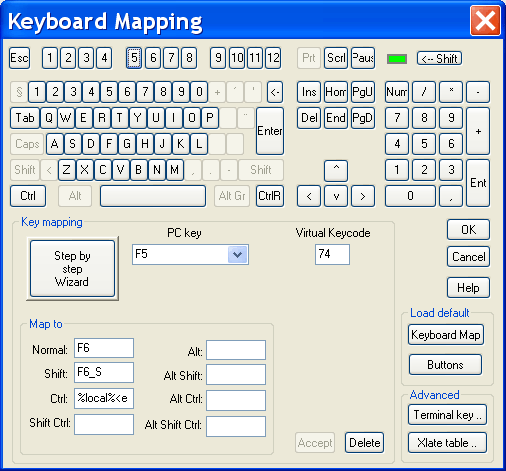 Printing
AniTa Telnet Terminal Emulator supports terminal printing and screen dump printing. Printers can be local, connected to the AniTa Telnet Terminal Emulator workstation, or remote, connected via a network.
Screen dump printing can be initiated by either the user or the host. Printing can be in color or black-and-white and the fonts can be scaled to fit the printer paper. Page eject can be suppressed so that multiple screens can be dumped to the same laser printer page.
Terminal printing allows the host to transparently send data to a PC printer. Printing to 10 different terminal printers and to a print file is supported.
LPD Server has been added to AniTa 7. This allows the UNIX / AIX / Linux host application to print to Windows Printers using the traditional LP/LPD protocol over TCP/IP. The LPD server can be configured in many ways and use the same printing filters as configured in AniTa Terminal Emulator. It can start and stop when AniTa is started.
File Transfer - Kermit & X/Y/Z-Modem and FTP
AniTa Telnet Terminal Emulator supports the Kermit and X/Y/Z-Modem protocols for the transfer of files between the host and the client PC.
There is also a new simple "toanita" protocol available to allow very fast and simple file transfers driven from the UNIX side.
An FTP client is included to provide file transfer via TCP/IP with features such as translation of both text file format and character set. Both 32-bit and 16-bit versions of the FTP client are available. The FTP client can be run interactive or script-driven. When using scripts, just create a clickable icon on the desktop for automatic transfer of files. An in-built site-manager simplifies access to many different host computers.
Protect users from themselves
AniTa Telnet Terminal Emulator has inbuilt protection from unintentional changes to the configuration. Settings can be locked or unlocked on an individual basis. Change of these locks is then protected by an administrator password.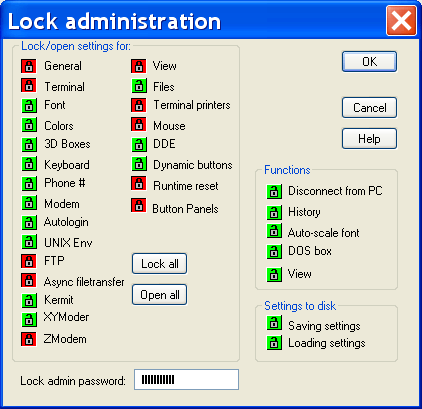 Automatic Login
AniTa Telnet Terminal Emulator can automatically logon to the host computer. It is also possible to automatically execute a program or application after logon. Hidden logon can be configured so the screen remains blank until the program is executed, thus user just sees his application and not the login sequence.
International Support
AniTa Telnet Terminal Emulator provides full and easy to use support for international character sets and keyboards. In addition the menus and help are available in a number of different languages. AniTa Terminal Emulation is installed in over 60 countries and works with most characters sets and keyboard mappings.
for the WEB
There is also a version of AniTa Telnet Terminal Emulator designed specifically for the JAVA environment. In addition to being able to purchase both versions separately, the AniTa Enterprise bundle allows you to run both versions on the same workstation and also provides the flexibility of being able to migrate from one to the other at a later date.
While both versions are designed to obtain the most from their underlying system architecture, they still provide a coherent and consistent interface. This means the users and administrators of one AniTa Telnet Terminal Emulator version, will immediately feel confident and comfortable with the other.

AniTa Telnet Terminal Emulator is also provided as part of Fusion95, which makes your UNIX / AIX machine into a powerful File and Printer Server in a Windows PC network. UNIX / AIX disks and files can be used by the Windows PCs as normal network resources. UNIX / AIX applications can print to PC printers and PC users can print to all UNIX / AIX printers.
---
| | |
| --- | --- |
| | Download the latest AniTa for Windows release for evaluation or upgrade from our FTP server. |
| | AniTa FAQ (Frequently Asked Questions). |
| | See also White Paper for AniTa |